This is another WIP. The pattern is from the book
Layer Cake, Jelly Roll and Charm Quilts
. This is a super fun book and I have a few WIP from it.
The first is an all flannel quilt i'm working on for my best friend. I saw the brown fabric and loved it! I picked some up and cut all of the cake layers from it. It is going to look super when it is finally done. I have all the blocks together - now, I just need to get them sewn together!
The pattern creates a nice lattice look - the quilt looks hard but it only has two peices to it!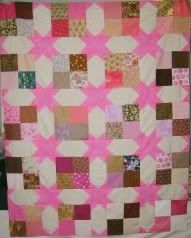 The other quilt is the Hidden Stars pattern. This one I used some charm squares in pink and brown from online swaps I played in. I'm not sure how I feel about this one but sometimes that is how things work out!